All clips come partially lined with a non-slip grip. The partial lining allows for a clean look and easy insertion into headbands and pigtails especially. The non-slip grip is perfect to keep bows in barely- there hair. You have your choice of clip for most hair pieces. If no selection is made, we'll choose what we believe to be the best clip for your size and type of hair piece.
Please
feel free to ask
if you have any clarification questions
at all
!
If you plan to use your bows/flowers on headbands, I'd recommend a single prong alligator clip. Small bows will come standard with a single prong clip, unless requested otherwise.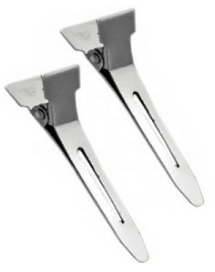 Single Prong Clip
If you plan to use your bows without headbands, if they are Medium, Large, or if they are any type of double-styled bow, I'd recommend the double prong alligator clip for added strength and stability. Also, all of our boutique clippies are placed on double prong clips unless requested otherwise.
Double Prong Clip
For our 5-6" bows, I recommend the french barrette unless you plan to pair them with headbands. If with headbands, then choose an alligator clip.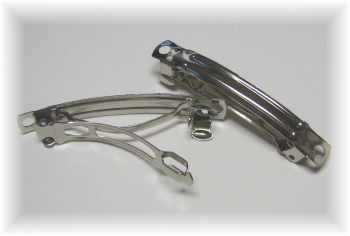 French Barrette (70mm)